Fulfillment by Amazon (FBA) and dropshipping are popular eCommerce business models. While both methods might look similar, the order fulfillment and dropshipping models differ in terms of inventory management.
Both business models assist eCommerce store owners with order management and logistics. These are essential to streamline a store's workflow, allowing sellers to handle multiple orders efficiently. Thus, choosing a suitable eCommerce model is crucial when starting an online business.
In this article, we will compare the main differences between Amazon FBA vs Dropshipping, from their definitions and shipping costs to pros and cons. Then, we will share our final recommendations for choosing between dropshipping vs Amazon FBA when selling products online.
Download Business Plan Template
What Is the Difference Between Amazon FBA and Dropshipping?
The main difference between Amazon FBA and dropshipping is the inventory ownership. Amazon FBA is a product warehousing and shipment service that lets businesses control inventory while it manages customer orders. Meanwhile, dropshipping is a low-cost fulfillment method where the manufacterer is in charge of the logistic process.
Amazon FBA will likely suit businesses with a more extensive customer base or an established company structure as it requires upfront capital investment. For example, if you're managing a local cosmetics company and want to operate new subsidiaries in different regions, Amazon FBA can be a perfect fit for your business.
What's more, you will need to provide documents such as tax information, credit card details, and business bank account information. Also, it requires you to pay monthly storage and additional shipping fees to Amazon for its services – whether you're making a profit or not.
If you prefer to start small as a sole proprietor, dropshipping makes a safer option for new eCommerce business owners or side hustles.
Pick a niche, partner with reliable suppliers, and pay attention to creating a visually appealing website to showcase your products. Mooshe is an example of a successful dropshipping store selling socks made of vegan fabric.
What Is Amazon FBA
Amazon FBA is a service that facilitates product warehousing and shipping processes for businesses.
With Amazon FBA, eCommerce store owners can send their products to Amazon's fulfillment center instead of setting up their own warehouse. Then, Amazon Warehouse will manage the product shipment from packing until delivery for each customer order.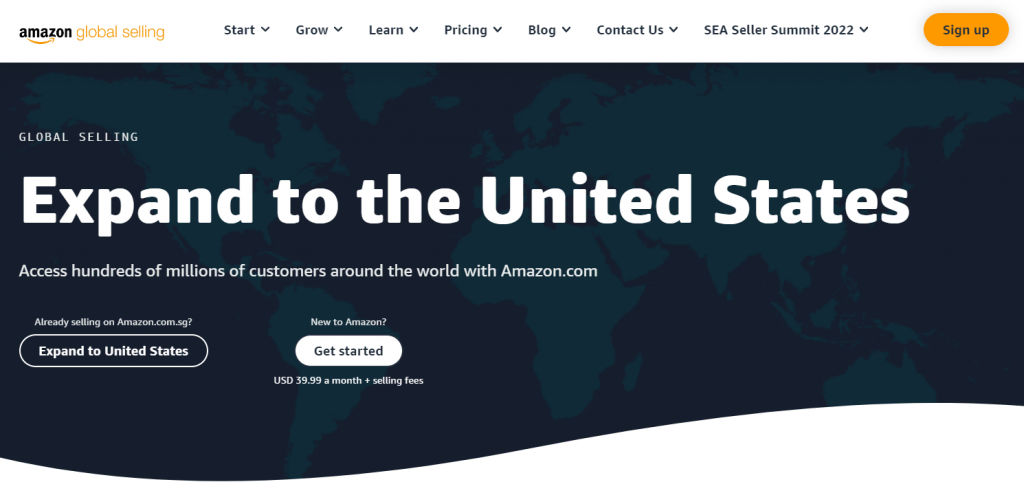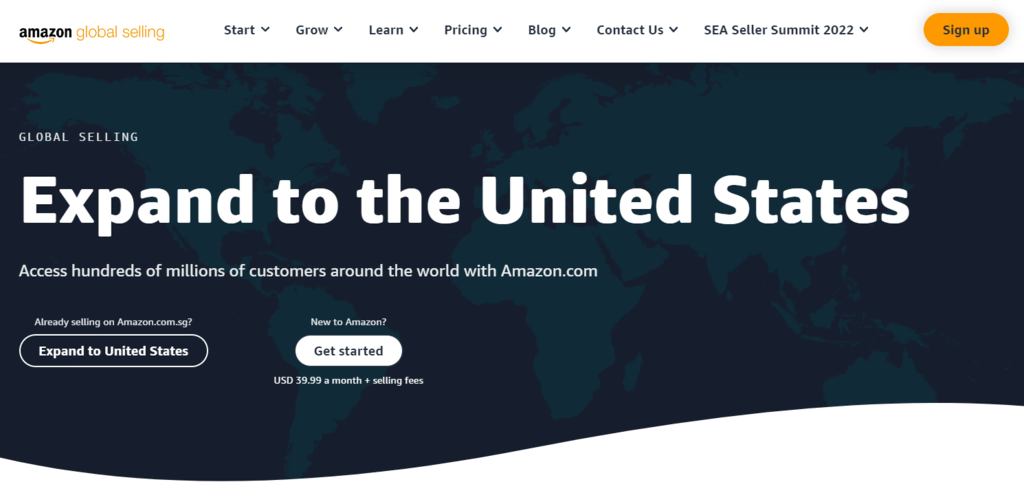 As a large online retail platform, Amazon provides fulfillment networks globally. In 2022, 68% of Amazon users utilized this service for its straightforward order fulfillment process and excellent product inventory.
Amazon FBA lets sellers access the Inventory Performance Dashboard to monitor elements affecting their Inventory Performance Index (IPI) score. Also, you can use the seller toolkit to take care of oversupply, track inventory age, update product listings, and maintain stocks.
Furthermore, it offers shipping promotions to help FBA sellers reduce their shipment expenses and increase profit margins.
Pros and Cons of Amazon FBA
Here, we will cover the main Amazon FBA method's benefits and disadvantages.
Pros:
Easy to Start. You only need to follow a few simple steps. Firstly, create an Amazon FBA account and sort your desired products into a listing on the FBA inventory. Then, prepare and send your products to Amazon's fulfillment centers and let them handle the shipment.
No Customer Support Needed. Dealing with customers might take a lot of time. The great part about FBA is that Amazon's customer service will handle your buyers' inquiries. Customers can reach Amazon anytime, and there won't be additional FBA fees for using this service.
Instant Access to Global Audience. Amazon FBA helps eCommerce owners scale their businesses by reaching an international audience. For example, the FBA Pan-EU scheme supports fast delivery in European countries. Also, you can benefit from FBA Export to broaden your online business market in 100+ countries.
Easy Returns and Refunds Policies. Amazon's FBA program provides a customer returns policy and assistance for clients wanting to return purchased products. Through the online return center, customers can easily apply for the following procedures: returns, refunds, replacements, and reimbursement.
Cons:
High Competition. As Amazon is one of the most popular selling platforms worldwide, you may find other businesses selling similar and cheaper products. Make sure to research and select the best high-demand products with low competition. Also, keep in mind that competing against more experienced Amazon sellers may take more effort.
Profits Are Not Guaranteed. Not all products will easily generate profit for your business. Some may sell quickly, but you need to consider applying eCommerce marketing strategies and setting competitive pricing to maintain stable profits.
Sales Are Restricted to a Single Platform. Compared to other business models like dropshipping, you can only focus on selling products online on Amazon's platform. Therefore, any changes to the selling policy or termination of your Amazon account will affect your eCommerce business.
Customers Belong to Amazon. With the Amazon FBA business model, your customers belong to Amazon's membership. Therefore, you can't utilize contact details to create customized campaigns like affiliate marketing or email listing to enhance your company's customer loyalty.
What Is Dropshipping
Dropshipping is a fulfillment eCommerce model which also involves third parties – retailers or manufacturers. It is a widely popular business model, and the market size for dropshipping is forecast to reach $26 billion in 2027.
This model lets sellers advertise products and start selling online without having to purchase stock upfront or manage a goods inventory. When customers place orders online, the store owners will send the order information to third parties. Then, the retailer or manufacturer will handle the product shipment to customers.
Dropshipping offers an easy process as the manufacturer will take care of all the logistics processes from the beginning, letting you focus on building your brand. However, there are factors to consider when starting dropshipping, such as market competition, dropshipping niche, suppliers, and legal requirements for opening your business.
Suggested Reading
Make sure to check our step-by-step guide on how to start dropshipping business to make your store more profitable.
Pros and Cons of Dropshipping
This easy and low-risk online business solution provides advantages as well as drawbacks you need to anticipate.
Pros:
Low Startup Cost. The dropshipping business model doesn't require you to manufacture or stock your products. Therefore, you can save up more on investment when starting your eCommerce business.
Less Responsibility. With this method, you only need to manage your eCommerce sites and send order information to your dropshipping supplier. The product shipping process will be your supplier's full responsibility, allowing you to streamline your business' supply chain.
Independent Location. The dropshipping model enables you to run your online store from anywhere. However, ensure that your dropshipping supplier is legitimate and reachable to avoid product shipment issues. Otherwise, you may not meet your customers' expectations and damage your business reputation.
No Upfront Investment. Apart from the small startup costs, you don't have to deal with operational tasks since your supplier will handle that. Also, there is no need to partner with large third-party logistics companies. Therefore, dropshipping is an ideal solution for business owners with limited resources.
Cons:
Slim Profit Margins. While you can start a dropshipping business with a low budget, this may generate a smaller profit margin. You will have to pay an agreed amount of money to the supplier, and upselling the products might not work. This is because customers will start looking for alternatives offering better value.
Fierce Competition. As dropshipping is a popular eCommerce model, the competition is relatively high. You may find some competitors offering the same or similar products, even at lower prices.
Dependency on the Manufacturer. With dropshipping, you don't own the products you sell. Therefore, you will have to rely on your supplier's information when dealing with customer inquiries. However, the suppliers may provide wrong information about the shipping process. In addition, when a customer asks detailed questions about the products, you might need to double-check with your suppliers – which will take more time.
No Control over the Item Quality. The major drawback of dropshipping is having little control over product quality. The manufacturer will handle the products from packing to delivery, meaning you can't check outgoing products closely. Therefore, it is critical to ensure you're partnering with a trusted third-party supplier. You can do this by ordering items from them as a client first.
Amazon FBA vs Dropshipping: Which One to Choose
When deciding on a suitable eCommerce model for your online business, consider the following factors:
Initial cost and investment. Both Amazon FBA and dropshipping are easy to start. However, you will need to pay fees for Amazon FBA. If you're aiming for a low-budget eCommerce business, dropshipping will be a more suitable model for selling products online.
Customer support. Amazon FBA provides a professional support service that can improve your customer experience. Therefore, you don't need to handle customer service on your own as with dropshipping.
Market access. With dropshipping, multiple suppliers may not be able to reach certain areas for delivery. On the other hand, Amazon FBA allows businesses to extend their market internationally.
Level of competition and profitability. Both Amazon FBA and dropshipping will lead to a highly competitive business environment, and your business may experience revenue fluctuations. With Amazon FBA and dropshipping, you will need a long-term strategic plan to maintain stable profit.
Quality control. With Amazon FBA, you will be able to maintain your product quality before sending your products to Amazon fulfillment centers. With dropshipping, it is impossible to have control over quality as you don't own the products.
Additional features. Amazon FBA offers an easy return policy, inventory tracking feature, and shipping promotions. Meanwhile, you won't find these features in dropshipping.
Overall, both Amazon FBA and dropshipping offer benefits for eCommerce business owners. However, whether each model suits you depends on your business needs and scale.
Conclusion
Sellers can benefit from Amazon FBA's global fulfillment networks and reliable customer support for their businesses. However, it requires some investment to start selling with this method.
While dropshipping allows you to manage the product catalog on the website, and dropship suppliers will fully take care of the order management and logistics. On the other hand, sellers will have little control over product quality.
Given the benefits and drawbacks, Amazon FBA is more suitable for businesses with an established structure. Examples of successful Amazon FBA sellers include Zappos and Utopia Deals.
Dropshipping is more flexible for different types of businesses, as well as individuals. Find inspiration from dropshipping store websites like Fashion Nova and Warmly. Clothing, beauty products, and home products are some profitable online business ideas.
If you have any further questions about Amazon FBA vs dropshipping, leave a comment below.
Check Out Other Platform Comparisons
WooCommerce vs Shopify
PrestaShop vs Shopify
PrestaShop vs WooCommerce
Amazon FBA vs Dropshipping FAQ
Check our FAQ section below to learn more about Amazon FBA vs dropshipping and how these models can help you make money online.
How Profitable Is Amazon FBA?
Around 50% of Amazon sellers generated $1,000 to $25,000/month, mainly from Amazon FBA. However, it may take some time and investment to reach this number. Also, given its features that support global market expansion, eCommerce businesses with a larger customer base can benefit more from Amazon FBA.
Is Dropshipping Better Than Amazon FBA?
For an online business starter, dropshipping might be a better option. It doesn't require a high initial investment and startup costs. Also, it is more convenient to work with experienced suppliers. On the other hand, we recommend becoming an Amazon FBA seller if you're running an existing business and looking for opportunities to scale.
Is It Possible to Dropship on Amazon?
Yes. To use the dropshipping service, you must be the seller of your own products, identified on all packing slips, invoices, and external packaging. Also, you are responsible for product return procedures for your customers. To avoid misunderstandings, we recommend checking Amazon's latest dropshipping policy before using the service.